Luceda Photonics has launched an Assembly Design Kit (ADK) for the PHIX Characterization Package. This ADK is now available in their IPKISS design software for photonic integrated circuits.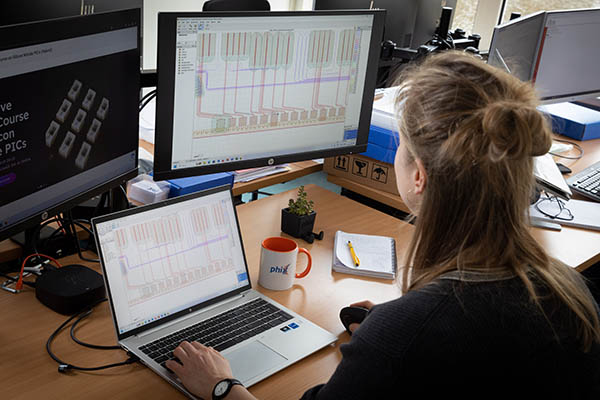 The implementation of this PHIX ADK in the
Luceda Photonics
Design Platform enables designers to create their photonic integrated circuits using Luceda's IPKISS software while incorporating packaging rules and constraints specific to the
PHIX Characterization Package
from the outset. This integrated approach ensures that circuits can be efficiently packaged after fabrication, eliminating costly mistakes and reducing time-to-market.
The creation of this ADK aligns with the objectives of the photonixFAB consortium led by X-FAB, in which Luceda Photonics and PHIX are partners. This project, co-funded by the European Union, aims to strengthen the European photonics device value chain. The PHIX ADK for Luceda's IPKISS software helps lower the barrier for making manufacturable photonic integrated circuit designs and facilitates a smooth scale-up to volume manufacturing of photonic devices.
The Luceda ADK for PHIX features the most recent PHIX Characterization Package, an open architecture prototyping platform for PICs and PIC based optoelectronic modules, offering:
Support for a wide range of PIC dimensions, materials, and bond pad configurations. This flexibility allows designers to explore new possibilities, ensuring that their photonic solutions meet the unique needs of their projects.
Documented assembly design rules, which can be automatically considered when designing photonic integrated circuits with Luceda IPKISS.
Fan-out PCBs on ribbon cables for plug-and-play system integration. This feature streamlines the connection of different PICs and modules, reducing setup time and enhancing overall system performance.
Luceda Photonics is committed to advancing photonic design technology, and with the ADK for the PHIX Characterization Package we set steps towards design-for-test and design-for-assembly. By seamlessly integrating design and packaging considerations, we empower our customers to make smarter and more efficient decisions throughout the product development process.
Taking assembly and packaging into account already at the PIC design stage is crucial for making the manufacturing of photonic devices cost-effective, fast, and scalable. That is why our PHIX Characterization Package comes with a set of clearly defined PIC design rules that promotes design for manufacturability. Having these design rules incorporated into design software is a very powerful way to support the PIC designer in a key stage of product development, so we applaud Luceda Photonics for taking this important step!