PHIX introduces silicon nitride spot size converters for efficiently coupling light between fiber arrays and photonic integrated circuits. They complement our existing offering of IONext spot size converters and lensed fiber arrays.
Silicon nitride (SiN) spot size converters (SSCs) are chips with lithographically defined waveguides that can be placed between optical fiber arrays and photonic integrated circuits (PICs). They adapt the mode field of the light so that insertion losses are minimized.
A unique feature of the SiN SSCs is that the mode field size at the edge facet can be configured (down to 1 by 1.5 μm) by how much material is removed by the polishing process. This allows PHIX to match the mode field to your exact needs by modifying an off-the-shelf component. Our stock consists of SiN SSCs of various channel counts (up to 64) and standard optical pitches of 127 μm and 250 μm.
We use alignment loops for active alignment of the SSC during its attachment to the fiber array. Because silicon nitride enables small waveguide bend radii, the overall form factor of the SiN SSCs is very compact. Furthermore, the material is suitable for a very wide wavelength range of 400 to 2300 nm.
Download our SSC White Paper
Get in-depth information about the benefits and possible configurations of PHIX IONext and SiN spot size converters.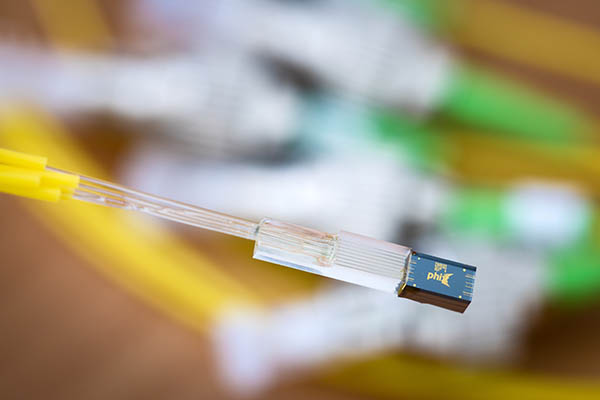 Optical fiber array with a silicon nitride spot size converter