In a collaboration with Nanoscribe, PHIX introduces lensed fiber arrays manufactured by high precision 3D printing 
Our new lensed fiber arrays (LFAs) are v-groove optical fiber arrays with 3D printed lenses at the ends of the fibers. They are suitable for free space coupling to other fiber arrays, photonic integrated circuits (PICs), or other components. The printed microlenses can focus or collimate the light from the fibers, enabling mode field conversion or coupling over larger distances.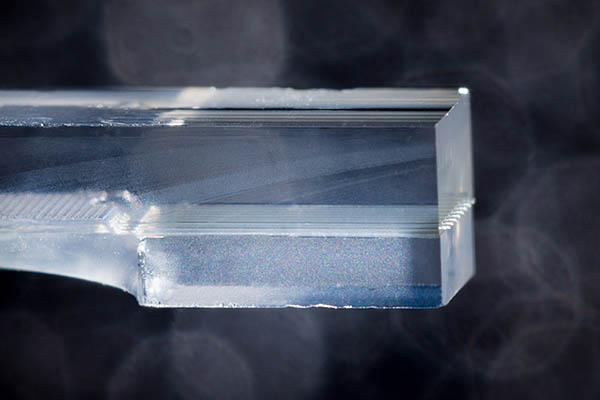 Fiber array with 3D printed microlenses at the ends of the fibers.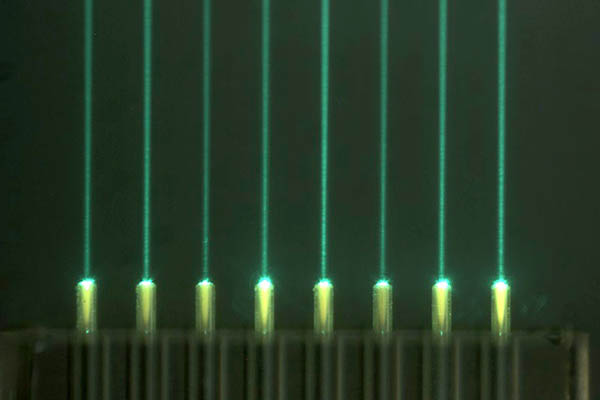 Collimated light from a lensed fiber array. Image copyright Nanoscribe.
The high-precision 3D printing of lenses is a collaboration with Nanoscribe, a microfabrication company headquartered in Karlsruhe, Germany, and part of the BICO group. Their additive manufacturing process offers many advantages over subtractive methods of creating lensed or tapered fibers, such as:
High positioning accuracy relative to the fiber core
Full control over lens design parameters, such as asphericity for aberration correction
The ability to print directly onto existing surfaces, enabling more options for light coupling
This additive manufacturing process for creating microlenses allows them to be printed on the top surfaces of photonic integrated circuits (PICs) as well. For example, a microlens array can be used to focus or collimate light coming from a grating on the chip.
PHIX's extensive expertise in assembly and packaging of photonic integrated circuits is a compelling fit for Nanoscribe to jointly validate and further advance our technology in an industrial environment. We are excited to take manufacturing quality to the next level with our new approach of aligned high-precision 3D printing for manufacturing standard LFAs.
We are confident in Nanoscribe's new, aligned 3D printing technology for producing lensed fiber arrays and lensed chips with virtually limitless optical designs. This will enable us to further advance integrated photonics packaging.