With the addition of PhotonDelta as a shareholder, PHIX further secures its position as a leading packaging and assembly foundry within the European integrated photonics ecosystem. PhotonDelta also provides PHIX with long term financing for equipment purchases necessary to ramp up production of optoelectronic modules.

PhotonDelta is a growth accelerator for the Dutch integrated photonics industry. Their team of experts actively supports its partners by providing them with access to funding, knowledge, and a wide network of companies and knowledge institutions. Their objective is to promote the development and commercialization of integrated photonics, in order to reduce time-to-market and accelerate the adoption of the technology by the industries. Over the years, they have developed a strong ecosystem with major players in the supply-chain. A number of start-ups have transformed into mature companies, each with their own distinctive technological propositions, setting the foundation of a strong Dutch supply chain that is able to design, manufacture, package and test high quality integrated photonic solutions based on InP as well as TriPleX (SiN) technology.
The partners are encouraged to collaborate and share knowledge and experience. An example of this is the Flagship project, in which many PhotonDelta partners including PHIX are participating. Furthermore, PhotonDelta acts as a worldwide ambassador for its partners. This opens new market opportunities for PHIX as a specialist in packaging and assembly of photonic integrated circuits (PICs) in scalable volumes.
As disruptive PIC-enabled technologies are becoming more and more commercialized, PHIX is accelerating its growth to facilitate its customers' production scale-up. CEO Albert Hasper comments, "This loan from PhotonDelta enables us to expand the equipment infrastructure towards volume production to facilitate our growing customer base."
Ewit Roos, CEO of PhotonDelta says "Over the recent years, PHIX has demonstrated their ability of driving a business towards success. Their activity is essential for the mass adoption of integrated photonics in general and provides the Dutch ecosystem with an important supplier for the packaging and assembly of Photonic Integrated Chips. That is why we are delighted to contribute to PHIX's next growth phase."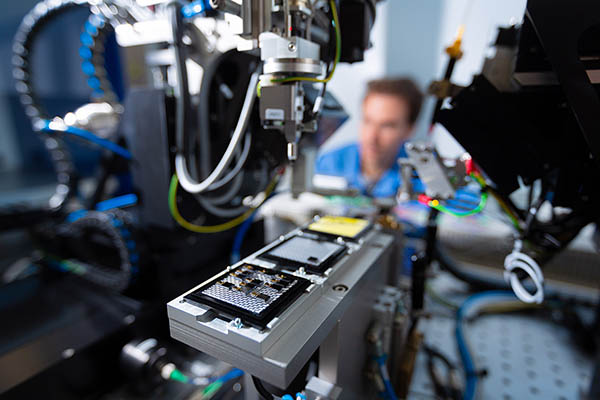 An automated chiplet assembly machine at the PHIX production facility in Enschede