David Tiebout encountered many hurdles throughout his childhood education, but he is now thriving at PHIX as a production operator with plenty of talent for further growth.
In primary school, the young David often appeared a little absent-minded and struggled to keep up with his peers. At some point, a desperate teacher complained to his parents that the boy would simply never listen. "Not so surprising," David comments cheekily, "because it turned out that I was almost completely deaf due to a chronic ear infection". Dyslexia and color blindness were additional challenges that caused the educational system to underestimate David's abilities. What didn't remain unnoticed was his talent for working with his hands, so he was admitted to the Professional Goldsmiths and Watchmaking School in Amsterdam, after which he took over a clockmaking business near Deventer in the east of The Netherlands. Due to a changing economic climate the workshop could no longer generate enough income, so David looked for other ways to perform the 'tinkering' which he so loved. After holding jobs ranging from repairing endoscopes to polishing optical fibers, David represented Bronkhorst High-Tech when that company started outsourcing part of their MEMS-based sensor production to PHIX. Following the success of that manufacturing process and the introduction of a new production line for Bronkhorst mass flow controllers, it made more sense for both companies to give David a permanent position at PHIX.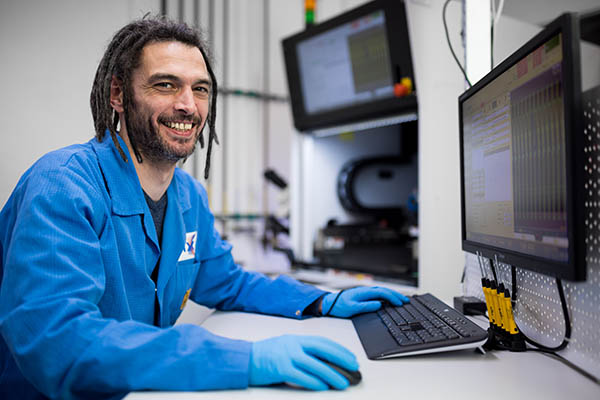 "The few layers of hierarchy that exist within PHIX are transcended by a friendly and familiar atmosphere, where each colleague is very approachable," says David. "I love the challenge of fine-tuning our processes with my team and finding out how we can assemble modules better and faster." While David is now primarily a production operator for processes like wire bonding, flip chip assembly and epoxy dispensing, he strives to take on more tasks in the areas of process development and automation engineering in the near future. "I have experience in R&D engineering and as the processes at PHIX are becoming more automated and geared towards volume production, I feel that I can put this knowledge to good use."
"I love the challenge of fine-tuning our processes with my team and finding out how we can assemble modules better and faster."
Avoiding taking his work home with him, David's past time is divided between laid-back activities like hiking, bird watching and astronomy on one hand, and more energetic stuff like power kite flying and visiting techno music festivals on the other. "I very much look forward to the festivals that are coming up this summer and in anticipation of that, when I'm alone in the room at PHIX, I sometimes like to play that techno music pretty loud," David confesses.
When asked what advice he would give to people looking for a job at PHIX, David says that the company culture very much encourages an employee's own initiative. "If you want to grow and pursue new ideas and responsibilities, you really have to show the team that you can do it. If you stay within your comfort zone, your ambitions may not come across clearly. I have learned to plainly state and demonstrate my aspirations, because unlike what happened in my childhood, I don't want to give people any reasons to underestimate me anymore."
Are you interested in a career at PHIX?
As a rapidly growing integrated photonics packaging foundry we are always looking for new talent. Even if our current job openings aren't an exact fit, we are eager to meet promising candidates who are experienced in photonics.